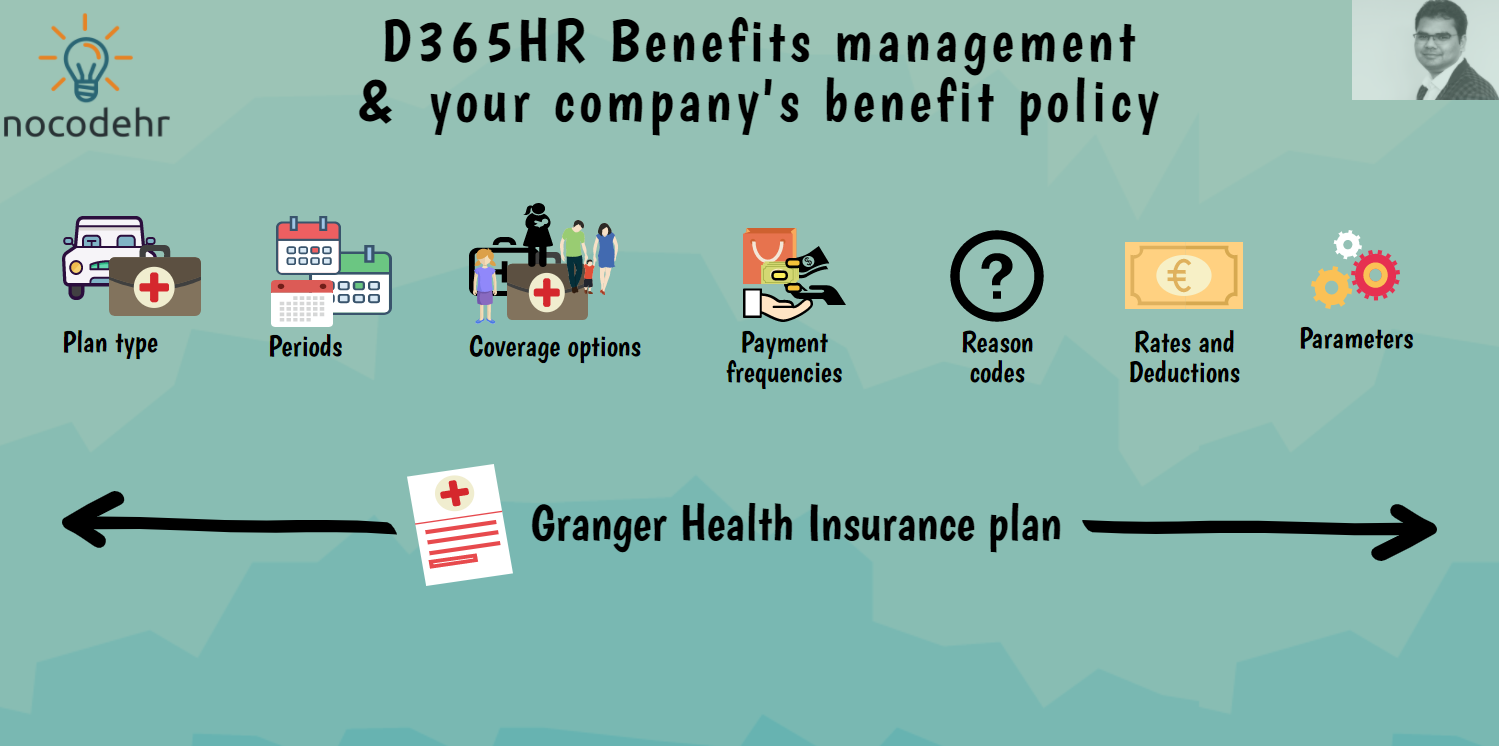 Have a look at a company's compensation policy!
Let's say Tina(Compensation and Benefits administrator) is discussing the Benefits policy of Hogwarts Retail with Harry who is a digital HR transformation consultant specialized in Dynamics 365 Human Resources. Here's the summary of how the benefits policy looks like:
Every employee is covered in a medical insurance plan from the Insurance provider – Granger Health Insurance
Each employee can choose between 3 coverage options:
All policy premiums are paid on a monthly basis and the monthly premiums for the year 2021 are:

Single: Employee=50; Employer=50
Couple: Employee=50; Employer=80
Family: Employee=50; Employer=100

The policy period runs from January to December every year
Employees can change from one option from the first of January to the end of January every year.
Every employee is eligible to be part of the Health Insurance plan from the day 1 of employment
Employees need to choose which Benefit plan and coverage option they want from Employee self service.
Employee should also have an overview of the benefit cover from Employee self service at all times.
Harry explains what is what on D365HR to Tina!
So Tina, D365HR Benefits management was enhanced recently with capabilities to support complex requirement scenarios, but based on what we have discussed so far – we can try to keep our design simple and use the functionality that helps us.
But I think it would be good to know what is what on the application. Here's what is going to help us define Granger Health Insurance benefit plan on D365HR:
What we need to define Granger Health Insurance plan and options:
Plan Types: Used to classify the benefits plans
Rules and Options: Consists of Bundles, Periods and Programs. We will be using Periods for our design which represents the start and end dates of Benefit plans
Coverage options: Different options available within a benefit plan for enrollment
Payment frequencies: As the name says it represents the frequency at which the benefit premiums are paid to Granger Insurance Company
Reason codes: Helps in tracking the employee benefit plan change reasons
Rates: Benefit premium amounts captured per coverage option
Deductions: Captures the deduction amounts per benefit plan from a payroll perspective.
Employee self service parameter: Used to define how the employee self service is going to function
HR and Shared parameters: We will have a look at various parameters that is going to impact our design
Benefit plans: The core of our design
The other complex stuff which we will need for the future:
Eligibility Rules: Used to create restriction on which benefit plans applies to who?
Personal contact eligibility options: Used to create complex eligibility rules to restrict the plans based on dependent relationship types
Life event types: Represents employee life events such as Marriage, child birth etc
Tier codes: Used to support complex benefit rate scenarios based on different tiers
Waiting days and waiting periods: Used to restrict/enable the enrollment of employee into benefit plans after a certain period
Rounding rules: Used to up or down round the premium amounts based on conditions
Flex credit programs: Helps in designing flexible credit policy on enrollment.
Now that we know what will help us in defining Hogwarts retail Benefits policy on Dynamics 365 Human Resources, lets dive into getting it configured by following the steps below.
Tina says "what if I have other benefit plans in the future?"….. Harry's response "That's sounds okay, we should be able to look at the benefit policy again and try to align the design, Benefits management capabilities are flexible to support complex design scenarios"
Let's make Tina happy by getting this configured on Dynamics 365 Human Resources!
Follow the steps on the blog series below:
Want to know more about Dynamics 365 Human Resources and Power Platform… Stay tuned and subscribe to my blog😀:
Do you think my blog helped you? Then please share it with your network on LinkedIn!