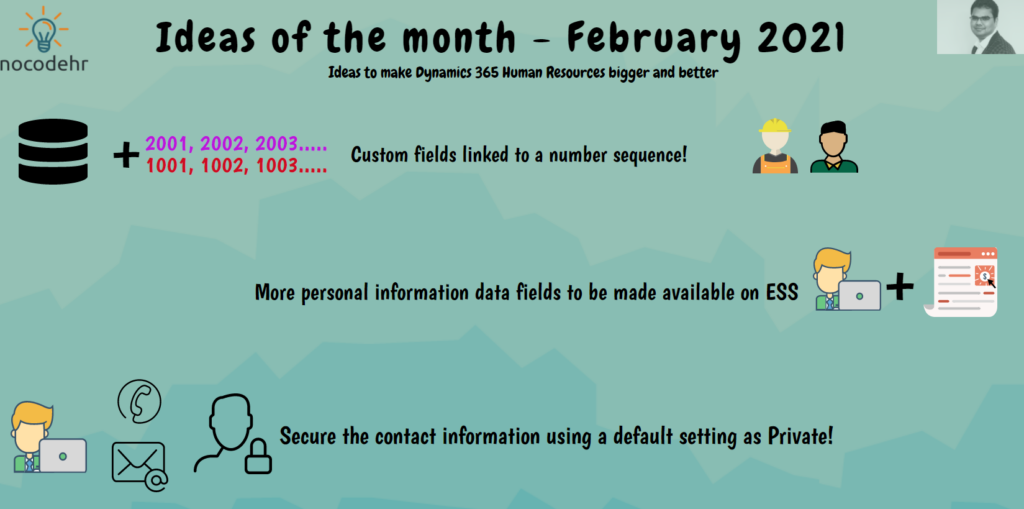 I was having a discussion with one of my customers a while ago and they had a requirement of being able to assign a different number sequence to employees(workers employed by the company directly) and to contractors(Temporary agency workers who are employed by vendor agencies). Although there is a easy way to find the two separately on Personnel management workspace – It would be critical to have a different number sequence between employees and contractors.
One of the easy way to achieve this without enhancing the core data model would be have a custom field linked to a number sequence in the background.
This not only solve the problem of a different number sequence but also opens up the flexibility to have more related unique identifiers on Dynamics 365 Human Resources. For example if we need to assign a unique employment Identifier for each employment of the employee, we can deploy a custom field on the employment data entity and link it to a number sequence.
🤞 This enhancement on the existing custom field capability would be a really good one to make it more flexible and make the custom field framework even better🤩
Thanks for the recent discussion with our Subject Matter Expert Hans De Jong about this topic, I realized the importance of this idea even more than the time I logged it👍
Employee self service on Dynamics 365 Human Resources is quite strong with exposure of the key data fields already. But this idea requested if approved will enhance it to take it one level further by exposing all the personal information data recorded against an employee.
The list of fields would be: Marital Status, Number of dependents, marital status date, Ethnic origin, gender, birth date, age, native language, education, disability, military service, expatriate information, country/region.
This would be a good enhancement that customers would love, but the down side would be that some customers would like an option to control which of this data will be available to the employees. The obvious solution would be to a personalization on the employee view, but a control point on the HR parameters or security would be even better🤞
This idea was submitted by an anonymous user, but super thanks for submitting/sharing details on this idea!
This is a really simple but a critical one, the idea is basically making all the new contact information updates (Phone and Email) to have default setting as Private so that it is not available on the company directory.
May be a HR parameter to control this would be optimum which can be "Default contact setting is Private" = Yes/No
The impact of this as Claire mentioned on the idea is related to GDPR and secure the employee data. This idea when implemented would give the comfort of making sure the data is secure and also reduce the work load on the HR team to run a manual validation check on this data.
Thanks to Claire Dugmore -Jones for submitting the idea!
Want to know more about Dynamics 365 Human Resources and Power Platform… Stay tuned and subscribe to my blog😀:
Do you think my blog helped you? Then please share it with your network on LinkedIn!