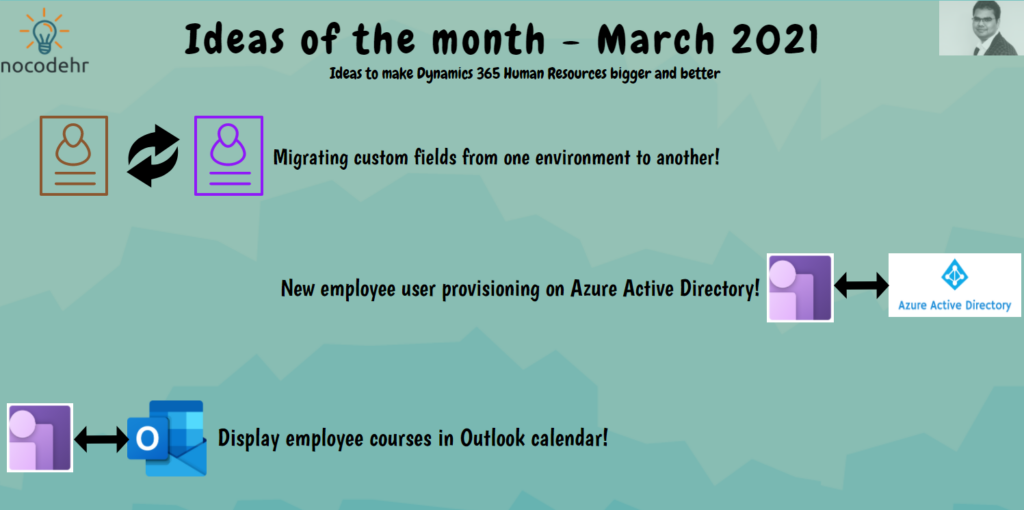 Being able to deploy custom fields sort of solves a lot of simple to complex customer problems. But lets say we are very ambitious about it and end up deploying a good number of custom fields as part of the solution design. The customer tests the solution and is very happy about all the custom fields and signs it off.
We have to move all the custom fields solution from test environment to production environment manually and that may be a quite a lot of redundant effort. On top of that we will have do a quick round of smoke testing on production environment to make sure that everything works okay.
This idea when implemented basically makes the move to production or from one environment to another environment simpler rather than moving it manually. This is one of the ideas that consultants and partners would love😍
Thanks to Matthieu DELATTRE for submitting the idea!
Any HR team while recruiting a new employee will have to coordinate with the IT team to get Azure active directory account and the official email address linked to the employee's HR data record on D365HR
This idea basically simplifies this process and would automate the process of Azure active directory account creation for new employees.
I will watch out for the preview features to check how this idea progresses further and how Azure AD integration will be designed.
Thanks to Anuradha Pandrangi for submitting the idea!
Another integration topic🤩 Let's say an employee is registered on a course on Dynamics 365 Human Resoures. It would be ideal to have that course rigestration block the employees outlook calendar so that the other team members in the employees team know about the availabiity.
So when this idea is further considered for development – the successful course registrations will block the employees outlook calendar.
Again this is one of the topics that each customer has on the wish list and would love to have!
Thanks to Tom Verhelst for submitting the idea!
Want to know more about Dynamics 365 Human Resources and Power Platform… Stay tuned and subscribe to my blog😀:
Do you think my blog helped you? Then please share it with your network on LinkedIn!