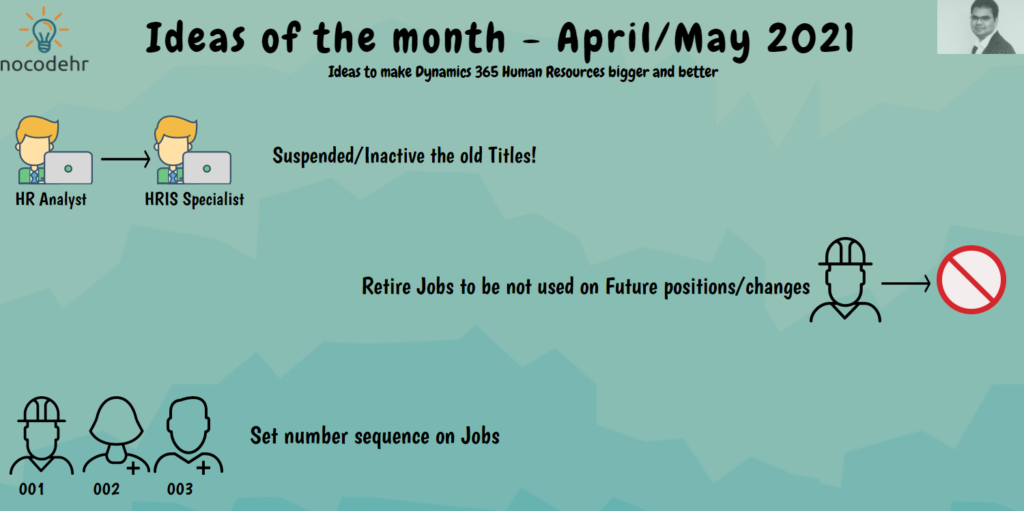 Title framework on Dynamics 365 Human Resources is one of the strong and flexibilities that gives customers across different industries to organize and manage Job and Positions to support their business.
At the moment the way Titles are defined and managed is in a very simple manner where we can add new Titles when needed but the old Titles that are no longer in use cannot be suspended. When a HR admin is adding a new position or a job the Titles that are no longer in use within the organization still comes up on the dropdown lists which may lead to data entry errors.
So ideally it would really help to have a flag on each title which says "Active" or "Suspended" so that the drop down lists are neater and lead to more accurate data entry.
One more thing that can help is to categorize each title if it is used on Jobs or Positions or Person level. This can be a separate idea to be logged😉
Thanks to Kinga Zablocka for submitting the idea!
Jobs and Position framework is one of the Human Resources design concepts that can kind of become a Penrose staircase paradox based on various parameters such as the maturity of the business and the HR department or the complexity in the design of the IT solution supporting business requirements.
Anyway – one of the best features on Dynamics 365 Human Resources is retirement of Positions which clearly help in keeping track of the historical positions of all employees and also stop the recruitment into vacant position that are no longer relevant to the business.
This idea cascades the idea of retiring positions into jobs. For example – based on an annual job framework review if the business decides to change the way the organization is modelled and replace some of the existing jobs with news ones for better market alignment – we would end up with some residual jobs on Dynamics 365 Human Resources which are not used anymore but will still be part of the drop down lists and search pages.
Adding a retirement date on Jobs and extending the business logic similar to Positions – simply makes the solution stronger💪
Thanks to Majken Touborg for submitting the idea!
One of the things that comes up during every design discussion is how can we identify each job uniquely!
Having a number sequence simply solves the problem and also automates the maintenance of the business logic accurately. Also this is super helpful not just from a user interaction perspective but critical to build integrations and reporting.
This is one of the topics makes you feel – "That makes sense!". Add your vote to increase the priority of this idea if you agree😉
Thanks to Tom Elliot for submitting the idea!
Want to know more about Dynamics 365 Human Resources and Power Platform… Stay tuned and subscribe to my blog😀:
Do you think my blog helped you? Then please share it with your network on LinkedIn!