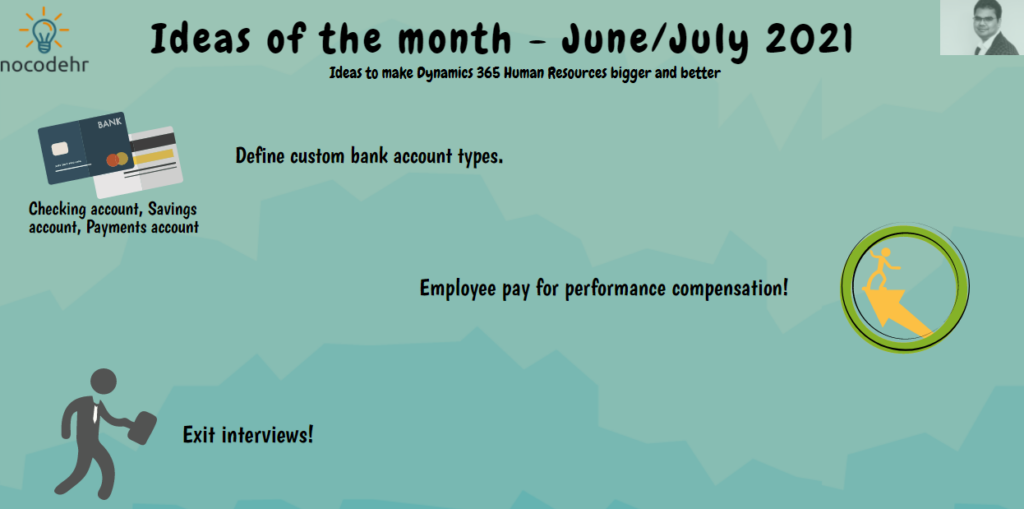 Every country has a different ways of depositing employee salaries into employee bank accounts. The employee bank account types in which salaries are deposited vary per country. For example when I was living and working and India – my salary was being deposited into my Savings bank account but when I moved to The Netherlands the salary was being deposited to Payments accounts.
Although Operationally I use both the accounts in a similar fashion the way the banking systems work is totally different and the way the bank accounts are called is totally different.
So Dynamics 365 Human Resources being a global solution – it is critical to support multi country requirements and also in a way that would really help the HR and Payroll teams audit and report data easily. This idea just adds to one of the topics on the list that would make global customers super happy by making the bank account types more flexible.
Thanks to Brian Tan for submitting the idea!
I am actually not sure if this is coming up on Ideas of the month for the second time🧐 I feel it is worth talking about this one more than once.
Basically when we look at performance management process in any company the end goal is to assess employee relative performance and come up a employee performance rating (or no rating😜 – this is for another time). This performance rating will eventually relate to a compensation increment of the annual fixed salary or bonus pay-outs.
Pay for performance is a functionality that is currently missing that would help us connect employee performance with employee compensation.
Actually this was available in the previous version of Human Resources on Dynamics 365 Finance & Operations😀. Hmmmm I did read an announcement from the product team that there will be platform changes and D365HR will be closer to D365F&O in the coming period. So this problem may be solved along with the upcoming change, we have wait and watch to be sure!
Thanks to Peter Rush for submitting the idea!
One of the typical workaround solutions that is possible to manage employee exit interviews is to make use of Performance reviews – this is true not just in the case of Dynamics 365 Human Resources but also valid with other industry standard Digital HR solutions.
This idea is requesting for a more specific solution that would help us manage and report on Exit interviews. Although I feel there are work arounds possible to solve this problem using performance reviews and Questionnaires – I think this is something when we have a more dedicated solution would definitely help many customers and also consultants on the ground (I am sure this is one of the most common questions asked by the customers😋)
Thanks to Aneeq for submitting the idea!
Want to know more about Dynamics 365 Human Resources and Power Platform… Stay tuned and subscribe to my blog😀:
Do you think my blog helped you? Then please share it with your network on LinkedIn!