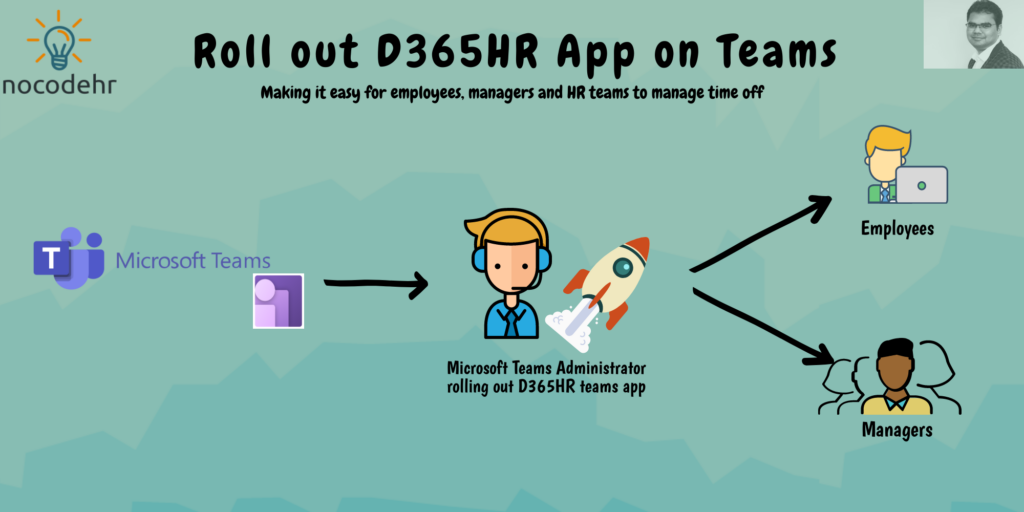 Sooo you have heard about this feature of enabling Dynamics 365 Human Resources on Teams and want to know how to share this with all of your employees😀
There is quite a lot of buzz about this and huge amounts of information and documentation. Butttt at some point you felt you just want to know what needs to be done to enable this to your workforce???
Read on to see if the below information helps 😎
Who is who? and who needs to do what?
Alice is a HR business partner working at Hogwarts Inc and came across this feature of Dynamics 365 Human Resources where employees can book leave on Teams and want to enable it to the entire organization
She contacts the Dynamics 365 solution architect Ronald who helped with the implementation of D365 Human Resources to help her with this.
Ronald requests Alice to connect him with the IT admin – Harry of Hogwarts Inc who is managing the Microsoft Teams.
Ronald and Harry follow the steps below to roll out D365HR app on teams👍
Steps to be followed:
Step 1

Step 3: Select add apps

Step 4: Search for Human and click on Add

Step 5: Click on Add apps from the Pinned apps menu

Step 6: Search for Human, select the app and click on Add

That's it, now the app is enabled for all employees to be able to view and use it on teams.
When the employees and managers log in…
They see 2 notifications:
Chat notification – Where the Power Virtual Agent chat bot is saying hi😜
New app notification📢

When the employee opens the chat notification the chat bot will suggest what the employee can do on the D365 Human Resources Teams app.

Want to know more about Dynamics 365 Human Resources… Stay tuned and subscribe to my blog😀:
Do you think my blog helped you? Then please share it with your network on LinkedIn!