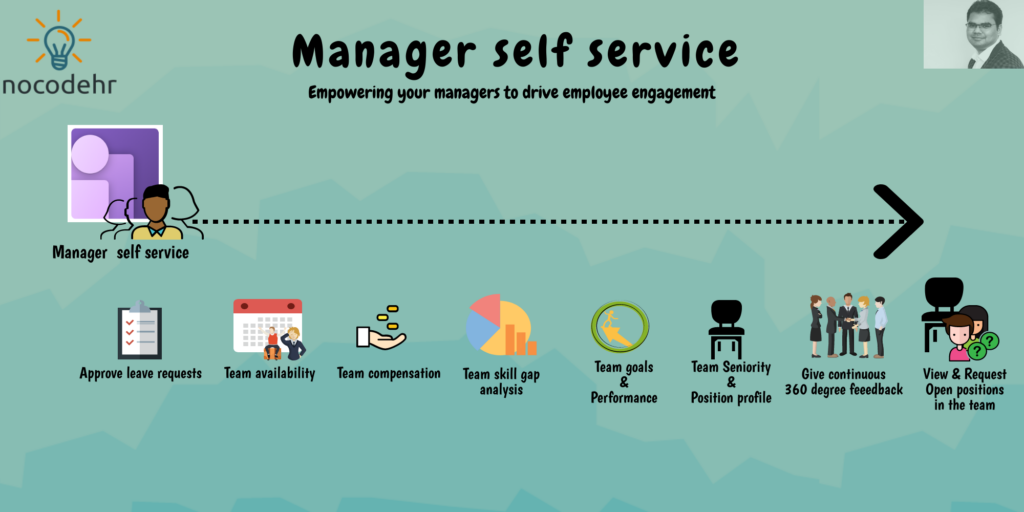 How will Manager Self Service help your organization?
We all would have heard the saying "a team a reflection of its leadership" and if you want have many great leaders in your organization to drive high performance it is critical to empower them with the right tools to stay on top of the latest information and make data driven decisions.
Manager Self Service capability on Dynamics 365 Human Resources helps you achieve this by giving access to the right information to your managers and help them drive team's engagement and development.
How to access manager self service on D365 HR?
As seen in my previous blog post – D365HR Employee Self Service, all employees in the organization will have access to Employee Self Service workspace. Once a manager opens this workspace, he will be able to see "My team" tab which is the gateway to the world of Manager Self Service.

What information is available on D365HR Manager Self Service?

Approve team leave requests
Approve team buy/sell leave requests (Wait for me future blog about this😉)
Team performance, skill, goals, continuous feedback
View open positions in the team
Overview of direct and indirect team members
Seniority and position profile
Team compensation information
Team Leave and absence information
Team Performance goals (Its repeating… but this provides a quick overview)
Team Performance reviews (Its repeating… but this provides a quick overview)
Good to know:
Manager self service can be selectively launched in phases by customizing the security roles
There are some enhancements planned in Release 2020 wave 2 (read my blog) related to manager self service.
We can include custom hyperlinks on Manager self service in the near future 😜(Release 2020 Wave 2)
Want to know more about Dynamics 365 Human Resources… Stay tuned and subscribe to my blog😀:
Do you think my blog helped you? Then please share it with your network on LinkedIn!