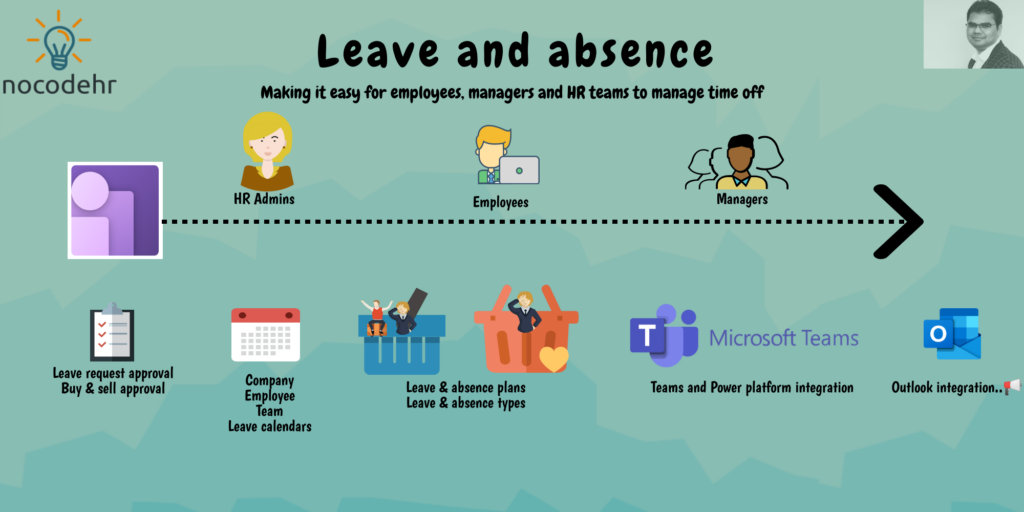 What can you do with Leave and absence?
The HR teams can create leave and absence plans with different types of leave and absence types.
Leave balances are accrued against each leave and absence type based on different rules which reflects the leave policies of the organization
Employees and managers can view the balance on self service and request for time off.
An approval workflow can be defined for time off requests – usually first level manager approval.
Beautiful overviews are available via Employee, Team and Company calendars to show which employees are on leave.
Quiz time!
Can you let employees buy or sell leave balances?
Yes, This is one of the latest enhancements was developed as part of Release 2020 wave 1. We can define leave buy and sell policies and a window for such transactions, for example 1 month before the leave period closure.
Can employees carry forward balances from one leave period to another leave period?
Yes, this is possible based on the rules defined in the leave and absence plan
Very important!!! – Can you route special leave request approvals (maternity leave) to the HR team instead of the 1st level manager?
Yes, the approval workflows are linked to Leave and absence types – so each type of leave defined can have a different approval flow.
Magical feature 1 – Teams integration🤩
Dynamics 365 HR Leave and absence is integrated with Teams app and bot framework and can lead the employees through a magical experience of how leaves are booked from self service.
Magical feature 2 – Outlook calendar integration… coming soon…📢📢📢
Outlook calendar integration is planned in Release 2020 wave 2. We have to of course wait for the preview to be available for the exact capabilities of this, but I am certain this is going to be as magical as Teams integration…🤞
What more???
What you can achieve with the capabilities of Leave and absence depend on how you define the solution design and make use of different product features to support business requirements.
Having worked very closely with FourVision's HR Plus capabilities of Leave which are enhanced and incorporated into the standard capabilities of Dynamics 365 Human Resources – I can cautiously say one thing😋 "The product features are flexible and wide and I definitely need more than 1 blog post to write about them…"
Want to know more about Dynamics 365 Human Resources… Stay tuned and subscribe to my blog😀:
Do you think my blog helped you? Then please share it with your network on LinkedIn!