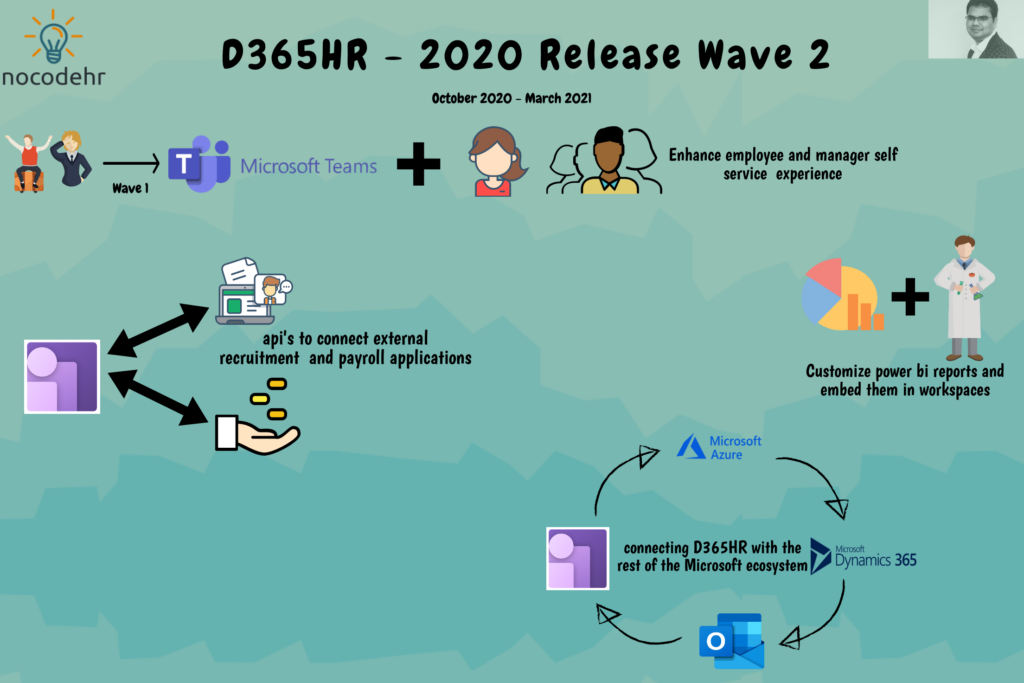 Dynamics 365 Human Resources has progressed a long way in the last year and 2020 release wave 1 added some much needed features to the product (Read my linkedin article: Dynamics 365 Human Resources – What's new?)
It is now time to look at D365HR: 2020 release wave 2 and the future looks exciting but one step at a time. My overview of what is planned and what customers can expect from this wave:
Leave and Absence/Benefits enhancements – Continues…
Benefits data entities will be added to CDS
Leave Workflow, onscreen balance view, manager calendar enhancements and a CRITICAL feature (read below)
Custom Power BI analytics
Finally!! Customers will be able to build custom reports on D365HR data and embed in workspaces. This was the most sought out by the customers which would drive the most value in the Digital HR transformation projects.
Teams Teams and more Teams…
Further to the great success and the most discussed feature of employees being able request leave from Microsoft Teams, the product team is set to expand this to include Employee and Manager Self Service capability.
Integrations
Recruitment and Payroll external application integrations: Extreme focus to solve this piece of the puzzle in wave 2. There are a set of api's being built that will enable customers to connect D365HR to external applications.
Other Dynamics 365 applications: Employee skills and competencies will be available for integration with other D365 applications.
Azure Active Directory: The missing piece of the puzzle at the moment and that would highly benefit the customer IT and HR teams to have more seamless employee on boarding experience.
CRITICAL feature: Outlook calendar and approved leave: If I understand it correctly customers will be able to see the approved leave on their outlook calendars. I can see customers flying on cloud 9 with this feature 👍
Other key items worth mentioning
Overall workflow experience enhancements
More performance data entities will be added to CDS
Enhanced candidate profile on Personnel management
Integration with LinkedIn Talent Hub
Automated address validation
Custom links for managers on manager self service (much needed)
Manager access to employee attachments
Want to know more about Dynamics 365 Human Resources… Stay tuned and subscribe to my blog😀:
Do you think my blog helped you? Then please share it with your network on LinkedIn!