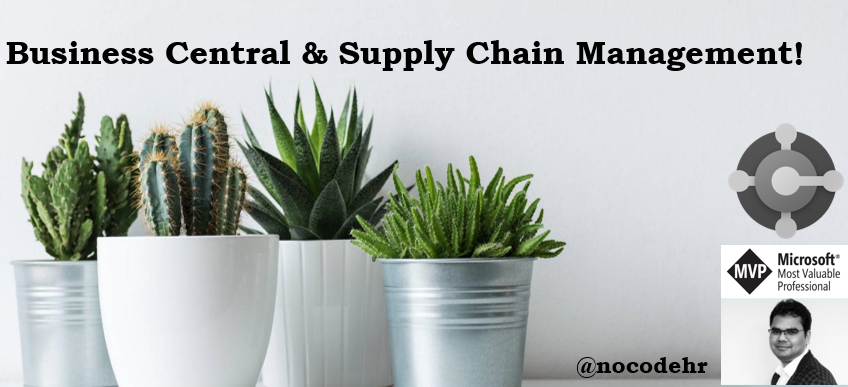 Supply Chain Management – Hmmmmm that does ring a sound of complexity especially for a Human Resource professional. But hey I studied Mechanical Engineering (and was pretty good at it during my university😉) So here's me continuing Adam's story to explain Supply Chain Management…
Items!
So Adam is in the business of baking cakes and making people happy. So a cake is an item that moves through Adam's company Supply Chain Process.
Item Types!
Inventory items: The cakes that are ready to be sold and tracked as part of the inventory
Non-Inventory items: There are some cakes specially made to be sold for privilaged customers. These are to be kept track for administration purposes but is not counted as part of the inventory.
Service items: Let's say Adam also starts offering cake making services where he is lending some of his specialist cake makers to other bakeries across the town as a service. It is an item that is offered as a service and is measured using labor time units.
Catalog items: Adam is planning to enter a new area of making cakes – let's say Wedding cakes. He does not want to already make them and keep in the inventory but want start selling them already as a catalog item.
What's more about items!
Categories and Attributes: Each items can be categorized based on a set of attributes that can help to search and sort
Item availability: Item ledger entry posting is used to increase or decrease the quantity of an item in the inventory. Item availability can change due to different processes:

Sales and Purchase
Physical counting of the invetory
Transfer items between locations

Item Substitutions: It can be a case that a particular cake is already sold to a customer but later realize that it is out of stock in the inventory. One of the options is to provide a substituion cake – may be of different flavor or of the same flavor but a different size to the customer. Business Central offers the capability to view and select substitute items when one is out of stock.
Item transfers: Ofcourse when there is wide network of bakaries from Adam selling cake all over the country – items in this case cakes need to move from one location to another. It is critical to track the inventory at the particular location and also the inventory that is in transit. Item transfers help keep track of it.
Special pricing and providing discounts!
of course Adam wants to treat his loyal and repeating customers a bit more sweet from time to time by providing special pricing and discounts.
We can define the special pricing and discounts on Business Central to be applied automatically based on customers and customer groups. Also there can discounts based on higher quantities or for a special occasion for example when Adam's company turns 5 years.
Locations
Adam is baking these amazing cakes at a central location and distributing them across the country at different bakeries. Also he has a office location for his staff at the Head Quarters.
All these are bascially locations from Business Central perspective.
Sales orders and Purchase orders
When it comes to running a business there are 2 basic things Adam is doing – he is purchasing raw materials Vendors (Contacts) and selling finished products to Customers (Contacts)
Sales order is a document that is having the overview of the items sold to a customer. You can also use something called as a Sales quote to start the first step of the sales process which can then be converted to a Sales order or a sales invoice at a later point in time once the customer agrees on the sale.
Purchase order on the other hand is a document that records the receipt of the items from a vendor into Adam's company.
Warehousing
In essance all the products that are being procured and sold by Adam are stored first at a particular location which is called a Warehouse and distributed as necessary to other business locations.
Warehousing is process of receiving and shipping different items in your supply chain at a particulat location.
Once a sales order is confirmed – the warehouse management professionals prepares the order with a picking processing to be shipped to the customer
When a purchase order is confirmed and items are received at a warehouse they are put away or processed and stocked within a warehouse.
Forecasting
As a company Adam has to be aware at all times if he as sufficient stock levels of the raw materials to make those amazing cakes to be able to deliver the customers so that he able to meet the promise p of the confirmed sales orders😊
So he should be able to forecast his sales based on various parameter and customer behaviour and also forcast the needed inventory to be replenished in his warehouse so that the supply chain process runs smoothly and his business is making suffient and sustainable profits.
Dynamics 365 Business Central comes with machine lerning technology which can produce predictive analysis or future sales and inventory levels – This should give Adam a sigh of relief to focus on running his business and making happy customers.
Thats about Supply Chain Management and Dynamics 365 Business Central (and a bit of baking a delivering cakes😉)
See you in the next one…
Are you curious to know more. Join my Dynamics 365 Business Central learning journey… Stay tuned and subscribe to my blog😀:
Do you think my blog helped you? Then please share it with your network on LinkedIn!