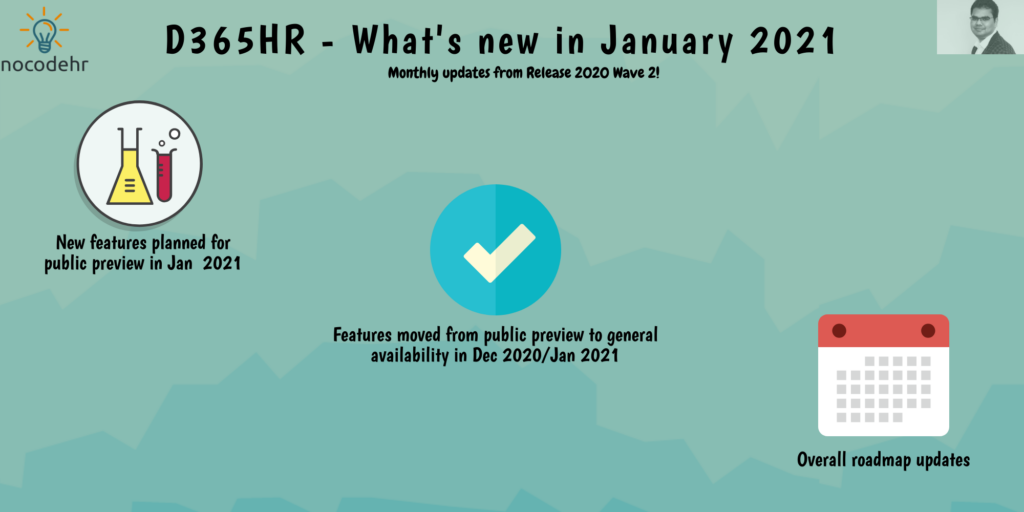 There are 3 areas that I want cover in this month's update:
New features planned for public preview in Dec 2020
Features moved from public preview to general availability in Nov/Dec 2020
Overall roadmap updates
Curious to know more, read on to know more details!
New features planned for public preview in Jan 2021
With the overall announcement of Release 2021 Wave 1 on 27 January, based on the latest roadmap planning there are no features planned for public preview in Jan 2021.
But do watch out for next month's update for some exciting features😎
Features moved from public preview to general availability in Dec 2020/Jan 2021
With the goal of reducing the queries by the employees and managers to the HR teams, the leave balances form on Employee Self Service and Manager Self Service is enhanced to include all the necessary details:
Employee self service overview: Employee Self Service Workspace > View all balances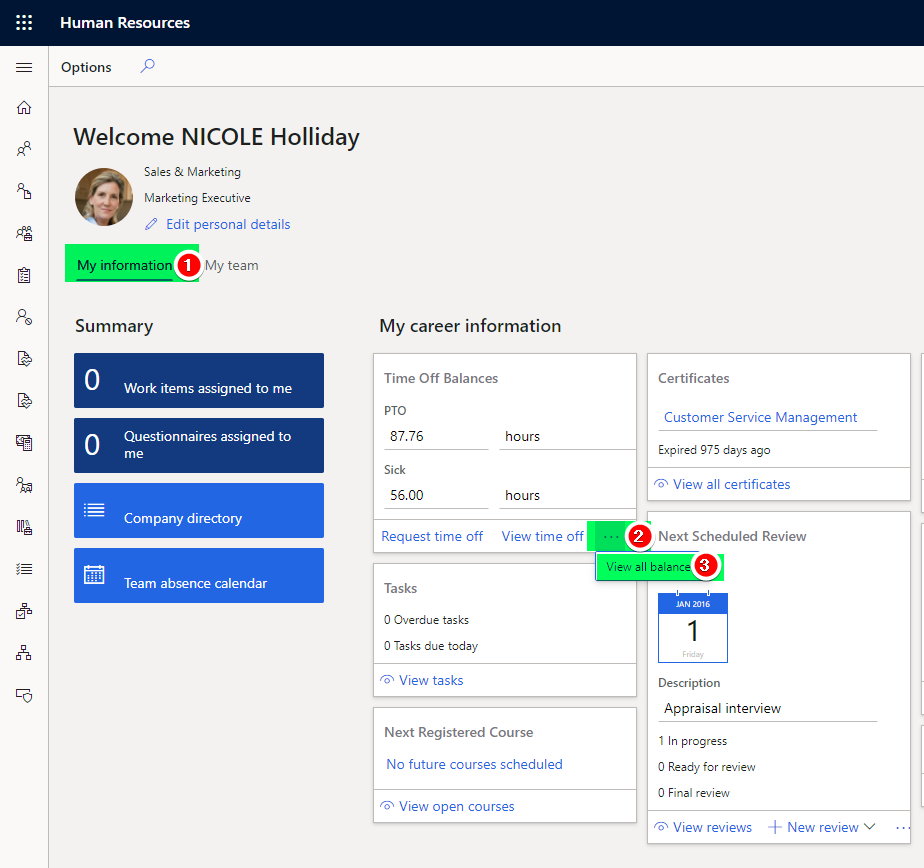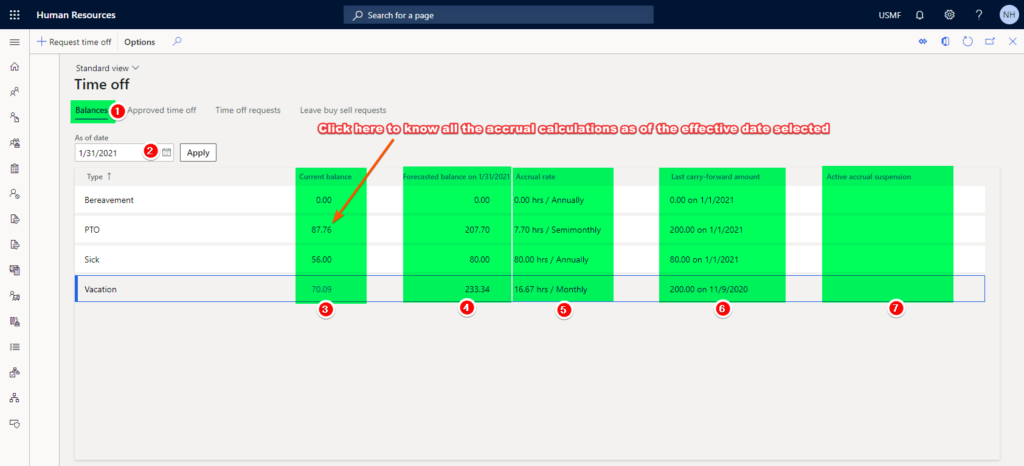 The same overview is available to the managers on employee time off details on My team tab: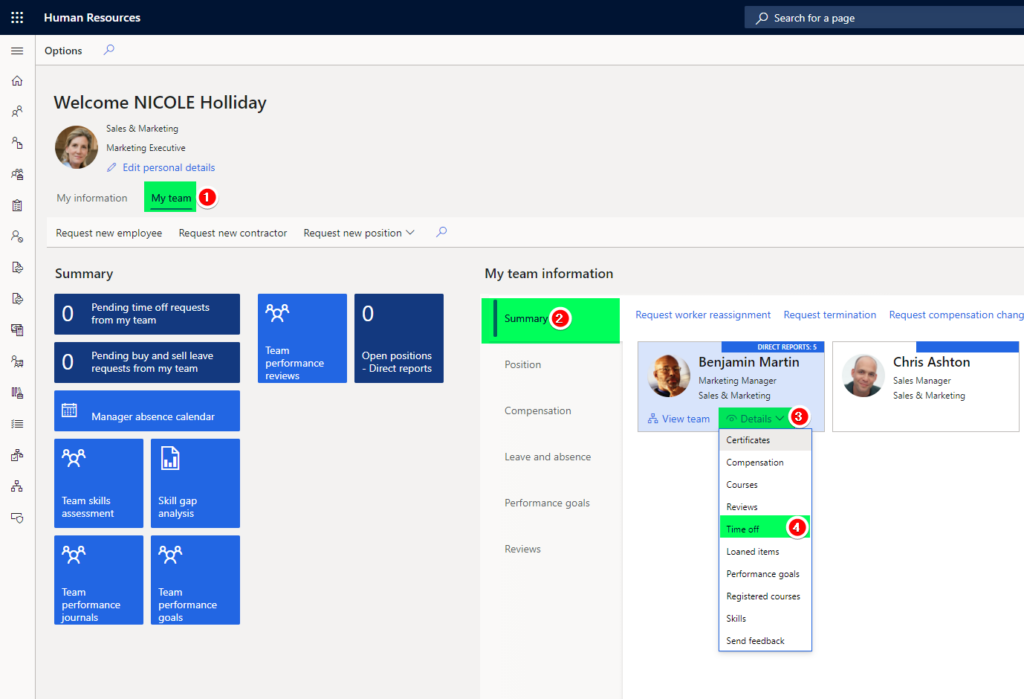 The feature details of what is enhanced as part of this is explained below:
"When a candidate has accepted an offer in LinkedIn Talent Hub, an action is available to send the candidate record into the Human Resources system. This eliminates the need to manually enter the new employee record in Human Resources, removing silos from the related business functions. Once the candidate record is in Human Resources, a workflow is enabled to review the new record, add any additional needed information, and approve the new hire before the final employee record is created and linked to the position"
Overall roadmap updates
There are changes in the overall roadmap items and release timelines of D365HR release 2020 wave 2. Find the updated overview illustrated below: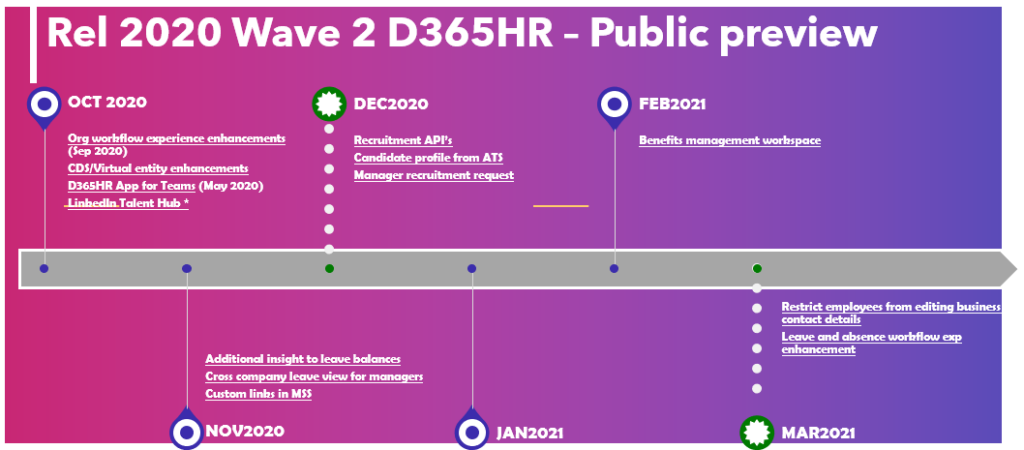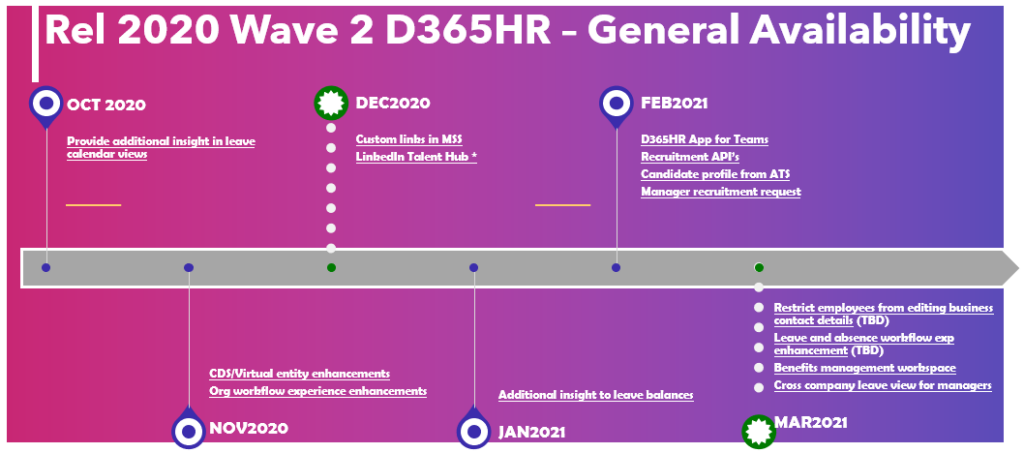 Do you want to have a quickly accessible overview of the roadmap which is linked to Microsoft official documentation? Download the pdf:
Release 2021 Wave 1 updates will be included on this timeline in February's What's new update😀
Wrap up….
January 2021 roadmap updates has seen some revamp in terms of the planned feature enhancements for public preview and general availability. Curious and interested to discuss more about this topic please reach out to me on LinkedIn!
With the Release 2021 Wave 1 plan announced on 27 January – there's more to look forward to in the coming period. I will cover this in next month's update. Have a look at the official documentation here: Dynamics 365 Human Resources R2021 W1
Also read about this on the blog posts from Ana and Parag
Kudos to all the hard work from the Product development teams of Dynamics 365 Human Resources👍
Want to know more… Stay tuned and subscribe to my blog😀:
Do you think my blog helped you? Then please share it with your network on LinkedIn!